After yesterdays request, a reader responded with her handmade key holder. She got the idea from
here
. She broke the handle off her rake. When she went to the hardware store to get a new handle, she found it was several dollars cheaper to buy a whole new rake, than to buy just the handle.
What to do with the rake part?????
Well, she made one of these with the rake. It can be used to hang keys, leashes, stemware, towels...whatever! Cost?? $0. Just make sure when you attach it to the wall, that you hit a stud.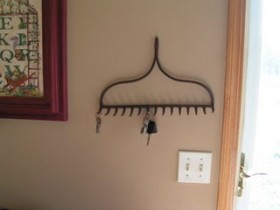 This last one has key chains on it, made from recycled jeans. Cute gift idea that only would cost pennies for the ribbon and metal rings.
OK, So that is the first frugal idea a reader has sent, (I am going to search the barn and see if I can come up with a broken rake to use as a pot holder rack in the kitchen).
Keep sending them in --recipes, homeschooling ideas, gifts, garden....anything that YOU do or have seen done that is a money saver. And, we will share!